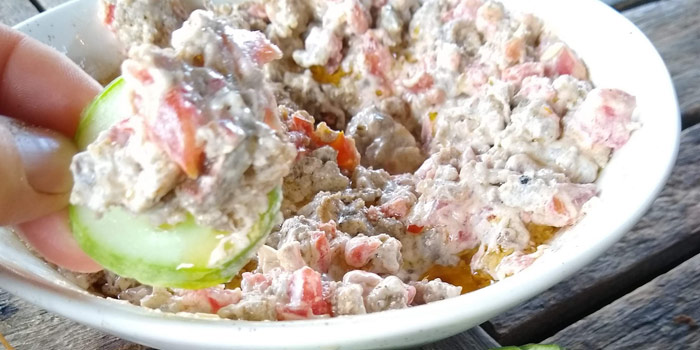 If you have not ever tried sausage dip stop what you are doing and make this super simple dish.
I promise it will be your go to for so many reasons.
When do I make Sausage Dip
Dish to Pass Party: This is the perfect dish to pass because it will be a crowd favorite, it is inexpensive and it only takes 5 minutes to prepare.
Dinner: This dip makes a great quick dinner. Put it over pasta, rice or in a baked potato and have the most amazing and satisfying meal that only took minutes to prepare.
Breakfast: Serve sausage dip over a biscuit for the ultimate biscuits and gravy.
Pizza Topping: It is your sauce, veggie, and meat all in one easy spread.
What to serve with Sausage Dip:
Tortilla chips: Scoops especially make a great tool to get all that deliciousness into your mouth.
Ritz Crackers: because let's be honest – Ritz crackers go with everything.
Pita Bread: warmed pita bread cut in triangles make a perfect serving too.
Vegetables: Cut up carrots, celery, and cucumbers make a great vehicle for getting a mouthful of sausage dip without any guilt.
Now that you know how many different ways you can eat sausage dip and what you can eat it with, it is time to learn how to make it.
Ingredients
1 lb Lilly Den Loose Country Sausage (Hot or Mild)
1 Small can Rotel
1 Stick of cream cheese
Directions
Over medium heat cook your sausage completely
Add your drained can of Rotel
Shut of heat and add your stick of cream cheese
Stir until everything is evenly incorporated and cream cheese it melted
Enjoy!