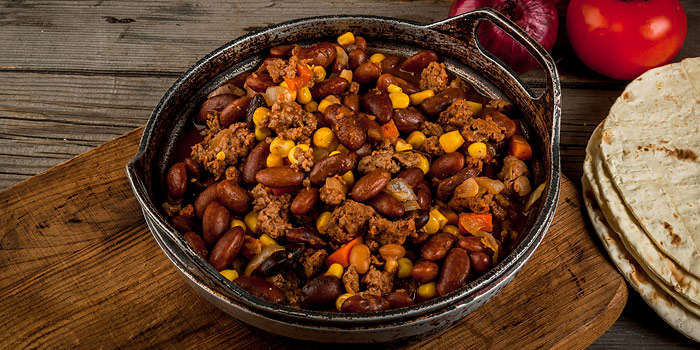 2 lbs. Ground Beef
1 Small Jar Of Favorite Salsa
2 Cans (15 Ounces) Pinto Beans, Chili Beans Or Black Beans (Not Drained)
2 Cans (11 To 15 Ounces) Whole Kernel Corn
1 Can (Lg) Diced Tomatoes
1 Can (10 To 15 Ounces) Rotel Tomatoes (Or Tomatoes With Green Chile Peppers)
1 Pkg. (About 1 Ounce) Taco Seasoning Mix
1 Pkg. Original Hidden Valley Ranch Dressing (Dry) Optional
Brown ground beef in a large pan with salsa. Add remaining ingredients and simmer for an hour or so. When ready, serve in big soup bowls. Serve with sour cream or yogurt, shredded cheese, corn chip or and have a skillet of hot cornbread.
5.
Easy (feeds a ton) Chili