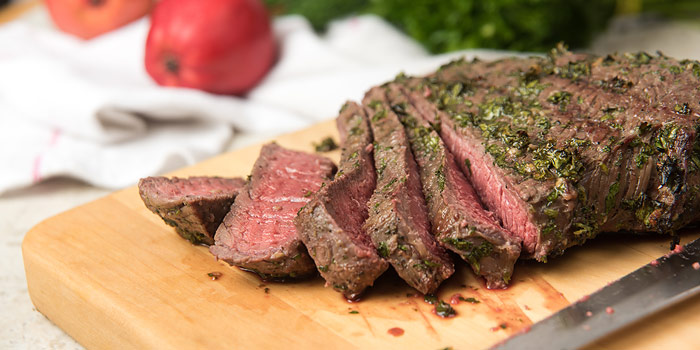 2 Cloves Garlic, Minced
3 TBSP. (Packed) Dark Or Light Brown Sugar
1/4 Cup Soy Sauce
3 TBSP. Worcestershire Sauce
2 TBSP. Balsamic Vinegar
1/3 Cup Olive Oil
1 1/2 lbs. London Broil
1/4 Cup Water
2 TBSP. Butter
Combine the garlic, brown sugar, soy sauce, Worcestershire sauce, vinegar, and oil in a freezer-type zip-top plastic bag. Add the steaks. Squeeze out as much air as possible and seal the bag. Place the bag in a medium bowl in the refrigerator to marinate 2 hour – overnight, turning bag several times for even coating. Heat a grill. Drain the steaks, reserving the marinade. There will not be much. Pour the marinade into a small saucepan. Rinse the bag with 1/4 cup water and add to marinade. Simmer 4 to 5 minutes and stir in the butter. Grill steaks to medium-rare, about 4 minutes each side. Let stand 10 minutes before slicing. Thinly slice at an angle across the grain, which runs up and down the short side of the steak. Bring the marinade-butter mixture back to a boil, pour over the meat, and serve immediately.