Cast Iron Oven Roasted Chicken with Roasted Veggies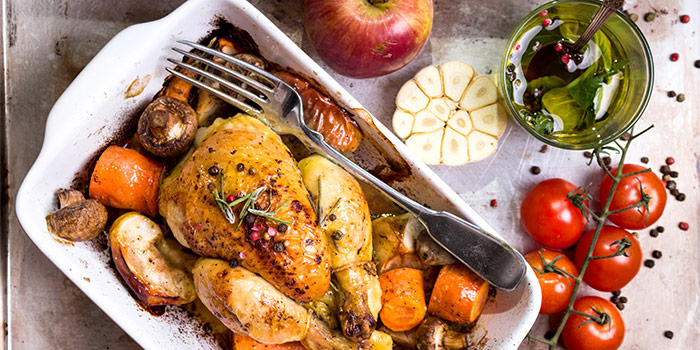 Want a quick and delicious meal that will warm the house and have the whole family asking what's for dinner because it smells so good?
This easy recipe is my go to one pot wonder. The best part is once you are done you can make soup the next day with the leftovers!
Ingredients
3 lbs. Lilly Den Farm Whole Chicken
1 Medium yellow onion, thinly sliced
6 Medium carrots, cut
1 Package Local Collards (Granite Springs or In Good Heart Farm)
3 TBSP. extra virgin olive oil, divided
Kosher salt, to taste
Black pepper, to taste
1/2 Cup white wine
8 Sprigs fresh rosemary
8 Sprigs fresh thyme
1 Lemon, halved
Directions
Preheat to 425˚F
Toss the onion, carrots, and collards in a cast iron skillet with olive oil, salt, and pepper. Let cook on medium heat for 3-5 minutes.
Pour the white wine over the vegetables and then pour a glass for yourself. You deserve it!
Season the chicken all over with salt, pepper, and garlic powder, then brush with olive oil.
Stuff the rosemary, thyme, and lemon inside the cavity, tie the legs closed with kitchen twine if you have it. No worries if you don't have twine.
Place the chicken, breast-side up, on top of the vegetables in the skillet.
Roast the chicken for 1 hour, rotating the pan halfway through cooking. The chicken is done when it is golden brown, the skin is crispy, and an instant-read thermometer inserted into the thigh registers 165˚F.
Remove from the oven and let the chicken rest for 15 minutes.
Carve the chicken, then plate alongside the vegetables. Pour the pan drippings over the top and serve immediately.
Enjoy!