Smoked Chicken and Vegetable Soup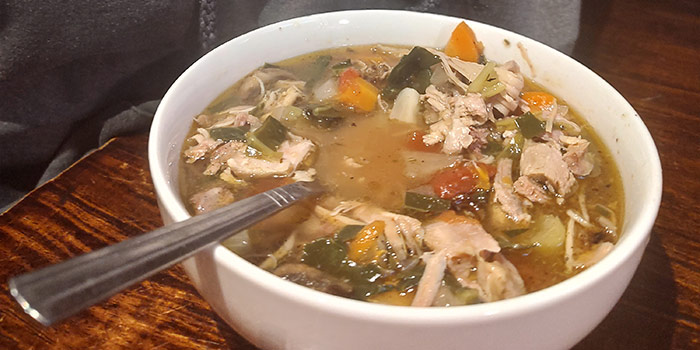 Here is my go-to Smoked Chicken and Vegetable Soup Recipe!
The best part about making this soup is you are using the leftovers from the smoked chicken you picked up at the Pittsboro Farmers Market to make the most delicious soup on cold winter nights.
Lilly Den Farm will offer whole and half Smoked Chickens that are table ready weekly at the Pittsboro Farmers Market and soon at their new retail location located at The Plant in Chatham's Beverage District in Spring 2022. These chickens are grown with love and brined and smoked to tender goodness.
The leftover chicken, even if it is just the carcass, makes great stock for all different kind of uses. I use stock for soups, rice, just to drink, and so much more.
Ingredients
1 Leftover Lilly Den Farm Smoked Chicken
1 Yellow onion
1 Large carrot
1 Stalk of celery
1 Slice mushrooms (any kind work)
1 Can diced tomatoes
1 Can white corn (drained)
Salt and pepper to taste
Directions
Put chicken in a large stock pot and cover with water. Bring to a boil then turn heat down to simmer for 30 minutes. Take all chicken out of stock water and let cool. Run stock water through a strainer to make sure you get all the bones out of the stock.
In an empty stock pot, cover the bottom with olive oil. Sautée all veggies for 5 minutes until they start to sweat. Add stock back in. Let simmer for 20 minutes.
While the soup is simmering, pull chicken and separate meat from bones. Add all leftover chicken back into the soup. Add salt and pepper to taste.
I often serve this soup with egg noodles or rice. I cook it up in a separate pot and add it to each bowl individually.
This soup freezes great and makes awesome gifts for family and friends.