Don't Be Afraid of Cooking with Charcoal: Charcoal Grilling 101
As a mother of 4 kids, a wife to a hard working husband, and a full time farmer I am always cooking a lot of food the easiest way possible.
Needless to say, the grill is by best friend for so many reasons. My go to grill is the Weber Charcoal Grill. Forget those expensive propane grills, seriously! Cooking with charcoal is not only easy but adds so many flavors. Not to mention, being outside just makes life better.
Years ago I was literally afraid to cook on a grill, let alone a charcoal grill. After watching a close friend of mine and realizing what I was missing I decided that it was time for me enter the world of charcoal grilling. If you are anything like me you might be afraid to cook with charcoal too but let me give you a few tips that will make you successful every time and take the hassle out of cooking.
Purchase a Weber Rapidfire Chimney Starter. Believe me, you can't have a charcoal grill without one. Go with the Weber brand because they have more vent holes to help get the coals going. They are simple to use. You pour your lump coals, my personal favorite charcoal is Royal Oak Lump Charcoal, into the top of the chimney. Rip off the paper from the charcoal bag that you just used. Crumple the paper and put it into the bottom of the chimney.
Light the paper in the bottom of the chimney. You can use your standard Bic lighter but I highly recommend Worthington Trigger Start Propane torch and of course you need the propane. I literally use my torch for everything. It is a handy tool to have around and it is great for lighting your grill.
Dump your coals on one side of the grill. This will help you control your temperature. If cooking chicken, pork or steak put my seasoned meat directly over the HOT coals. Stand next to the grill with your thongs. Within minutes the meat has a nice char to it. Turn it and wait a minute or two to char the other side. Then, move my meat to the side with no coals and let the meat finish cooking on indirect heat. At this point there is no need to stand near the grill and monitor. Cover the grill with the holes on the grill over the side with indirect heat. This way the smoke will pull through the grill and make your food tasty. Occasionally turn the meat so it cooks evenly. Depending on what you are cooking depends on how long you need to keep it on the grill. Meat temp charts are great. Take your temps to be sure not to over cook your meat. After a while you will not even need to temp anymore.
Always let your meat sit for 10-15 minutes before you cut into it. It will help distribute all the wonderful juices and keep your meat moist.
The best part about grilling is there is so little to clean up. I grill our meat, vegetables, potatoes and desserts in the summer. Better yet grilling helps keep you house cool because you are not cooking inside.
With a little practice and the right equipment grilling is a quick, easy, fun and a healthy way to cook for a family, friends or just for yourself. Grilled foods go great with beer, wine or mixed drinks too! So get outside, get quality meat and produce from your local farmers and get grilling!! You will thank me for it!!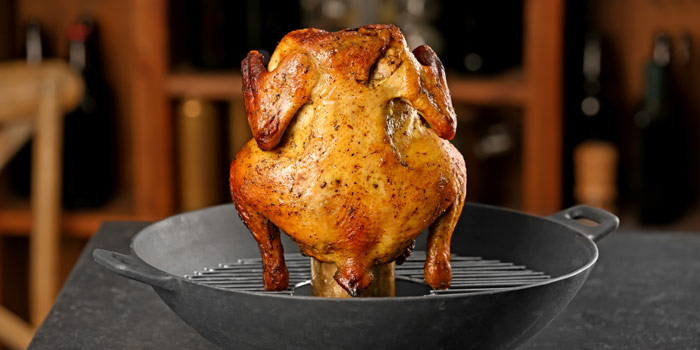 Simple Grilled Beer Butt Chicken
This is one of my favorite grilling recipes partly because it is so easy and partly because it is so delicious!
Make a quick spice rub with seasonings you have in your spice cabinet. Add a touch of brown sugar to help caramelize on the chicken as it smokes.
Here is my go to rub:
2 TBSP. Cayenne Pepper
1 TBSP. Sea Salt
2 TBSP. Garlic Powder
1 TBSP. Brown Sugar
1 TBSP. Paprika
Rub your whole Lilly Den Farm chicken with half the rub and put it in a large ziplock bag to marinate with a glug of white vinegar (You can skip this part but it definitely makes it more delicious).
Light your coals and take the chicken out of the bag. While your coals are burning let the chicken dry a touch. Dump your coals on one side of the grill. Rub your chicken down with the rest of the spice rub. Open a can of beer, your favorite kind will work great as long as it is in a can. Poke holes in your can so steam comes out of the sides and the top of it. Dink half to ¾ of it. Place your chicken on the beer can standing upright on indirect heat and cover the hole at the top of the chicken with the extra neck fat so the beer can steam is trapped inside the chicken and. Cover the grill with the lid vent holes open and over the indirect heat and let smoke rotating every 15-20 minutes. Depending on the size of the chicken depends how long you will need to cook it. Taking the temp is the safest bet.
Make sure to let it sit off the grill for 10-15 minutes to keep all those amazing juices in it before you cut into it and enjoy every bite!
1.
Don't Be Afraid of Cooking with Charcoal: Charcoal Grilling 101