Sustainable Poultry
We raise our meat poultry in small groups that have inside and outside accessibility. Our layer chickens and ducks are never cage confined and are fed excess produce and grains that are locally purchased. Eggs and whole chickens are available year round and turkeys and other poultry are available for purchase seasonably.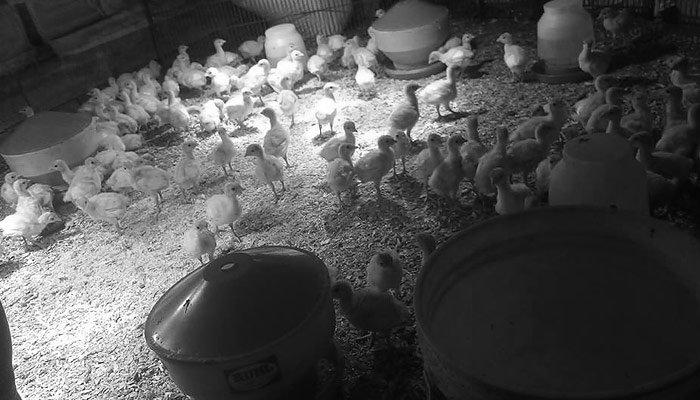 Pricing (subject to change)
Whole

...

$4.50 lb

Boneless Breast

...

$9 lb

Boneless Thighs

...

$7 lb

Legs

...

$6 lb

Wings

...

$5 lb

Leg Quarters

...

$6 lb

Liver

...

$3 lb

Hearts

...

$3 lb

Necks

...

$2 lb

Backs

...

$1 lb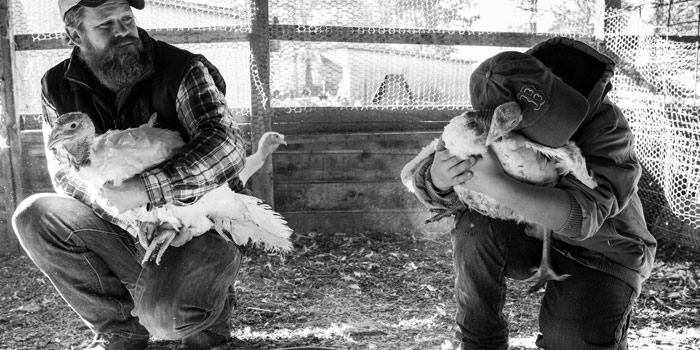 Order Pick-Up Dates and Times
It's that time of year again! We will send out an email before Christmas confirming your pick up location. Bring a cooler when you come to pick up your turkey because it will be fresh.
Christmas Pick-up Locations
Thursday, December 19th from 3:00-6:00 at Pittsboro Farmers' Market
Saturday, December 23rd from 10:30-1:30 at Carolina Brewery in Pittsboro
Pick up at the farm or other locations by appointment. Home delivery available for a $10 delivery charge.
Reserving Your Turkey
When reserving your turkey make sure to include your name, email address, phone number, size of turkey desired, and pick-up date/time (if possible). You can reserve your turkey in many ways:
Visit us at the Pittsboro Farmers Market on Thursdays from 3:00-6:00
Visit us at the Carolina Brewery and Grill on Saturdays from 10:30-1:30
Text Mackenzie at 919-356-3150
Email us by submitting the Turkey Reservation Form on this page.
Pricing (subject to change)
Standard White Turkeys

...

$6 lb

Heritage Breed Turkeys

...

$7.75 lb
We accept cash, check, or credit cards. Payment is due in full the day of pick up. You may pay your $50 deposit below to reserve your turkey, or pay us in person on or before your pick-up day.
Pay $50 Deposit Online
Be thinking about Christmas Special Orders!
The earlier we get orders in, the better. All Christmas order payments are due when you pick them up. If you want something that is not listed below please ask. Chances are we can get it cut or process it just the way you want.
When placing an order please email us your name, phone number, what you want, the weight desired, and date of pick up.
Beef
Standing Rib Roast

...

$16 lb

Prime Rib

...

$16 lb

Brisket

...

$10 lb

Whole Filet Mignon

...

$22 lb
Pork
We can get pork crown roast, pork loins, hams, or any other speciality cut.
Fresh Ham

...

$7 lb

Standing Rib Roast

...

$9 lb

Boneless Pork Loin

...

$9.50 lb

Suckling Pigs

...

$8.75 lb
Standard White Turkey

...

$6 lb

Heritage Breed Turkeys

...

$7.75 lb

Fresh Duck

...

$8.75 lb

Heritage Chicken

...

$5.75 lb

Turducken

...

$13 lb

Turducken with Sausage

...

$15 lb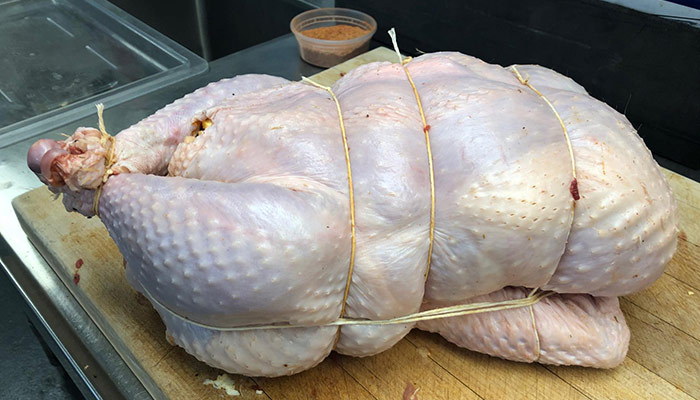 Turducken: A Perfect Collaboration of Chef and Farmer!
Lilly Den Farm pairs with Chef James Clark, owner and executive chef at Postal Seafood Co. to put together a one-of-a-kind local food experience.
Lilly Den Farm naturally and humanely raises the turkey, duck, chicken and pork and gives the processed meat to chef James Clark. Chef then debones a whole duck, debones a whole chicken, debones the breast of the turkey. On the Turkey he leave the wings on and the leg with bone in. He then lays them out flat with the turkey on the bottom, then the duck, then the chicken and season with a Cajun spice blend and this year we did the sausage which was an add on and then I fold it up in the turkey shape and tie it up.
Leg of Goat

...

$13 lb

Rack of Goat

...

$23 lb
Well Done

...

165°F - 175°F (73.9°C - 80°C)
Well Done

...

165°F - 175°F (73.9°C - 80°C)
Med-Rare

...

135°F – 140°F (57.2°C - 60°C)

Medium

...

140°F - 160°F (60°C - 71.1°C)

Well Done

...

160°F - 170°F (71.1°C - 76.6°C)
July 3, 2019
Easy duck confit recipe: Brine Ingredients: 1 Cup Kosher Salt 1 Head Crushed Garlic* 4 Sprigs Fresh Thyme* 4 Sprigs…
April 25, 2017
If I had to choose a last meal it would undoubtedly be a pile of grilled chicken wings with homemade…
March 30, 2017
As a mother of 4 kids, a wife to a hard working husband, and a full time farmer I am…