Don't Be Afraid of Cooking with Charcoal: Grilled Chicken Wings with Homemade Bleu Cheese Dressing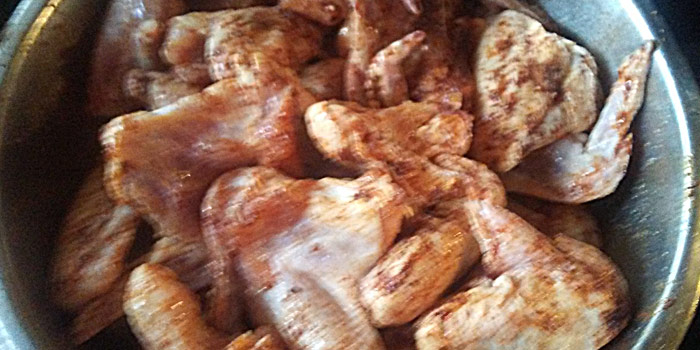 If I had to choose a last meal it would undoubtedly be a pile of grilled chicken wings with homemade bleu cheese dressing and a quality local IPA.
When I say "pile" I mean a grill piled high of crispy smoked juicy wings. Of course I would not want to eat them alone. Grilled chicken wings and beer might be my all time favorite meal but they are enjoyed even more when I get to share them with my closest friends and family.
Grilling chicken wings is pretty easy. I particularly love the fact that there is little to no mess to clean up after I am done. Unlike fried chicken wings, grilled chicken wings do not leave your house stinking like frying oil and your tummy hurting.
It is very important that every good chicken wing must be paired with an even better dressing. If you are going to take the time to make chicken wings make sure you set aside the time to make a quality dressing. You can do this ahead of time or while the wings smoke but either way it is worth the effort.
And of course nothing goes better with wings than an ice-cold local brew.
Grilled Chicken Wings:
Rinse and season your wings with salt, pepper, garlic powder, chili powder, and paprika (or whatever your favorite seasoning blend is). Toss in a bowl and put in a large ziplock bag to marinate (the longer the better). Pour in a couple of glugs of white vinegar, seal the bag tight, and toss every time you go in your fridge until you are ready to cook them.
Of course I use my the Weber Charcoal Grill Royal Oak Lump Charcoal burn really hot and this is exactly what you want when grilling wings. When your coals are ready dump them to one side of grill so that half your grill has hot coals and half your grill has no coals.
Place as many wings as you can over the hot coal. They will crisp up fast so stand by with your tongs. As the skins starts to crisp flip them over. As soon as both sides of the wing are crispy take them off the direct heat and place them in indirect heat. Now put your next batch of wings on the direct heat and repeat this process. As your wings crisp pile them high on top of each other. Once you are done cooking all your wings on direct heat and you have a pile of wings on indirect heat cover the grill with the holes open over the pile of wings. Let them smoke for about an hour or so depending on the size of the wings and how hot the coals are. Don't be afraid to start some more coals in your chimney if you need more heat. I have to do this often because I cook so much at a time.
You will know the wings are done when the meat starts to pull away from the bones and the skin is brown and beautifully crispy.
Bleu Cheese Dressing:
Here is my favorite blue cheese dressing recipe. It goes great with wings or even tossing in cabbage for a delicious blue cheese slaw.
Quality Bleu Cheese
Buttermilk (Make your own butter milk: one Cup milk, 2 TBSP vinegar, mix and let sit 5 min)
Mayo
2 Garlic Cloves
Salt and Pepper
In a food processor blend your garlic cloves so they are tiny and almost creamy. Next, blend in half your bleu cheese so it is smooth and creamy. Add your mayo, salt and pepper to taste and blend. Finally, add your buttermilk and blend. Add as much buttermilk to get you to your desired consistency. I don't like mine too thick but thick enough to hold onto my chicken wing. If you like big chunks of blue cheese in your dressing crumble the rest of the cheese and stir into your finished dressing. I like to let my dressing sit in the refrigerator for at least an hour before I use it so it can thicken and all the flavors can infuse.
So there you have it. The perfect grilled chicken wings with homemade bleu cheese dressing. Simply put, finger licking good!
3.
Don't Be Afraid of Cooking with Charcoal: Grilled Chicken Wings with Homemade Bleu Cheese Dressing