Summer Garden Ratatouille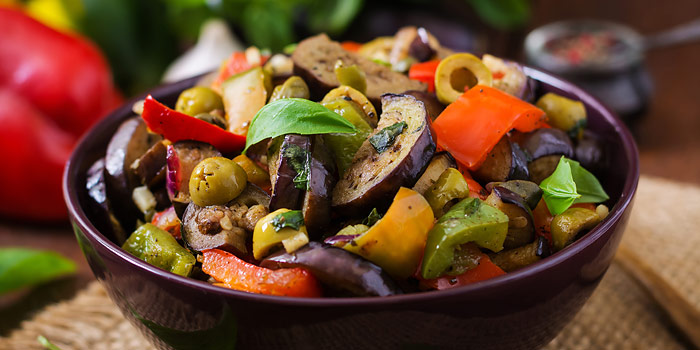 2 Onions (Chopped)
4 Cloves Garlic (Minced)
1 Bay Leaf
3 TBSP. Olive Oil
1 Medium Eggplant (Chopped)
1 1/2 TBSP. Fresh Basil (Chopped; Or 2 Tsp Dried)
1 TBSP. Fresh Rosemary (Chopped; Or 1 Tsp Dried)
1 1/2 TBSP. Salt
1 Tsp. Fresh Marjoram (Chopped; Or 1/2 Tsp Dried)
2 Summer Squash (Chopped)
2 Green, Orange, Or Red Bell Peppers (Cut In Strips)
2 Cups Tomatoes (Chopped)
Parsley
Black Olives
Parmesan Cheese
Saute onions, garlic, and bay leaf in 3 TBSP olive oil about 5 minutes.
Add eggplant, basil, rosemary, and marjoram. Cover and cook over medium heat, stirring occasionally until eggplant is soft, about 15-20 minutes.
Add summer squash, bell peppers, and tomatoes. Simmer until peppers and squash are tender, about 10 minutes. Serve over pasta or polenta sprinkled with chopped fresh parsley, black olives, or freshly grated Parmesan cheese.
Source: Simply in Season