Sausage Dip with Fire Roasted Peppers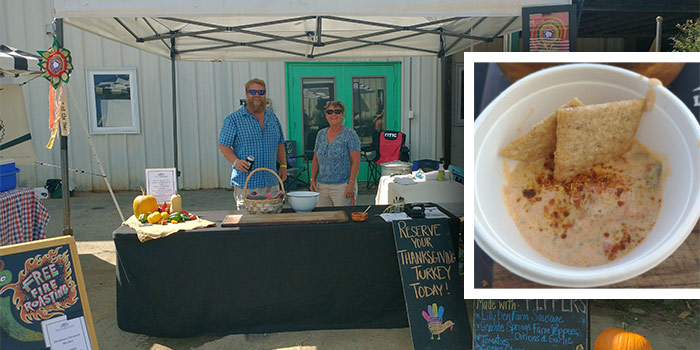 Pepper Festival 2021
Granite Springs Farm and Lilly Den Farm paired up for Pepper Festival 2021. When you pair a vegetable farmer with a meat and dairy farmer the dish is sure to be amazing. And it was! Our Sausage Dip with Fire Roasted Peppers was down right delicious.
Sausage Dip is one of the easiest and most delicious dishes you can make. Plus, it goes with just about everything. Check out my blog post, 8 Ways to Eat and Serve Sausage Dip.
If you want to make the Sausage Dip that we made at Pepper Festival 2021 you will first need to visit the Pittsboro Farmers' Market. It is a wonderful market located at Main Street Station between Walgreens and Small St every Thursday year round from 3:00 – 6:00.
Lilly Den Farm always has the loose sausage in hot and mild available at the Pittsboro Farmers' Market, plus other fabulous meats, raw dairy, and eggs! The loose sausage is definitely one of our biggest sellers and is a key ingredient to making this delicious sausage dip. Be sure to sign up for Lilly Den Farm's weekly newsletter for farm happenings, weekly specials, and availability.
Granite Springs Farm is a local no-spray vegetable farm in Chatham county who is also a vendor at the Pittsboro Farmers' Market. During pepper season she often brings her pepper roaster to market and offers free pepper roasting with the purchase of 3 pounds of peppers. These fire roasted peppers definitely add depth of flavor to our Sausage Dip.
Granite Springs Farm will be roasting peppers at market on September 30. You can also visit Granite Springs Farm at their website to learn more about their CSA. They have a couple of spaces left for our fall, winter, and spring CSA that starts up in October.
Onto the recipe:
Ingredients
1 lb. of Lilly Den Farm Loose Sausage (mild or hot)
1 Medium onion, diced
2 Cloves garlic, crushed and diced
1 lb. fire roasted peppers of choice, sliced, seeded, and chopped
1 Small can of diced tomatoes, drained
1 Stick of cream cheese
Directions
Sauté onions and garlic in a touch of oil until tender and transparent. Add in peppers and stir. Add sausage and cook completely through. Add in diced tomatoes. When everything is heated completely, stir in cream until melted throughout the sausage dip. Enjoy with a cracker, chip, cucumber, or spoon!
For a simple 10 minute sausage dip alternative that is still delicious, check out 8 Ways to Eat and Serve Sausage Dip.