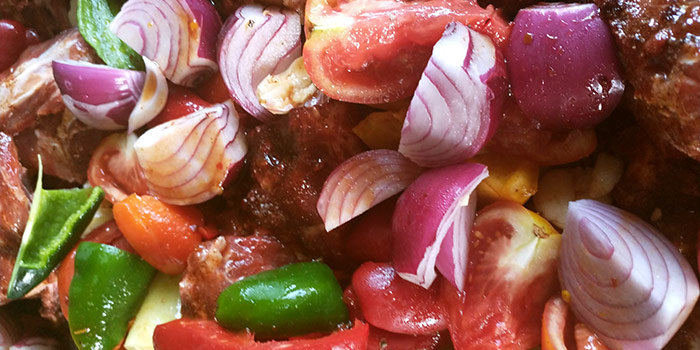 It is no doubt that fall is the time for comfort foods; warm hardy dishes that fill the belly and the heart.
Comfort food does not have to be an all day process. Especially when you have a crock pot or instant pot to set and forget.
One of my all time favorite dishes is slow cooked pork, pulled and smothered in gravy put over a bed of white rice and I am here to share my recipe with you.
Ways to Cook a Pork Roast
Crock Pot: If you work out of the house a crock pot is a great way to cook a pork roast. You simply season the roast, add in veggies, some stock, turn it on low, and it is ready for pulling when you get home. I set my crockpot on low for 8+ hours.
InstaPot: The InstaPot is great because it has the slow cook feature, the pressure cook feature, and my favorite of all – the searing feature, because let's be real; meat is always better when seared first. I set my InstaPot for 60 minutes on pressure cook.
Oven: I am not going to lie: the oven is my favorite way to cook anything low and slow. It allows me to do more volume and when you have a large family like me with extra kids always around for dinner you need to make food for the masses. The disadvantage is you really need to be home when cooking in the oven, or at least, I like to be home when my oven is on. I fill my pan full of meat, veggies, seasoning, and stock, cover it with tin foil, and cook it at 250 degrees for 8 hours.
Pick what form of cooking works best for your lifestyle and go for it.
Preparing your Pork Roast
Season your pork roast, or two, with all your favorite pork seasoning. I typically use salt, pepper, garlic powder, cumin, chili powder, cayenne, and paprika. Place the seasoned pork in the pan or pot and cover it a quarter way with stock or water. Rough cut tomatoes, onions, garlic, pepper, and whatever other veggies that will help build the depth of flavor in your stock and place it all over your pork. I like to include dried peppers like anchos in the stock, too. Cook until the meat is pulling with a fork.
Once your meat is done and pulls easily, remove it from the stock and veggies and let cool to make pulling even easier. Now take all your stock and veggies and blend them in a food processor, blender, or using a hand blending wand. Once your stock is pureed, run it through a sieve to get out all the chunks and skins. Pour the sauce over your pulled pork and let marinate.
Serve over rice and enjoy!