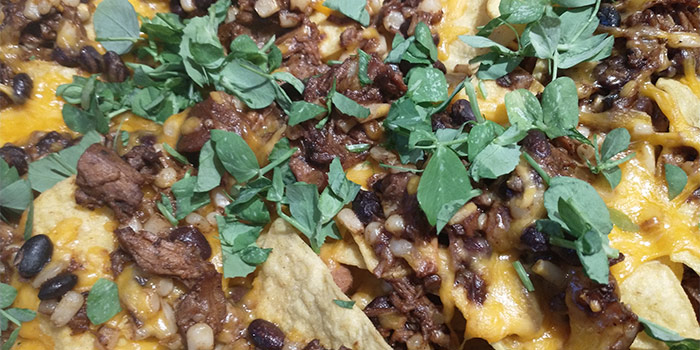 Who doesn't love a large plate of hot nachos loaded with meat, beans, and melted cheese?!
This is my go to easy recipe after a long day or when I am just not in the mood to make dinner.
Let's talk about meat.
I love to use pulled beef for my loaded nachos. It adds more depth of flavor and texture to the dish. Pulled beef is also fabulous on tacos, in salads, over roasted potatoes and the list goes on.
The best part about pulled beef is it freezes extremely well. I always make a large instant pot full of pulled beef and freeze the leftovers in ziploc bags for quick tasty dinners.
Here is how I make my pulled beef.
I used 4 pounds of thawed Lilly Den Farm stew meat. I season it well with salt, property, garlic powder, cumin, chili powder, paprika, cayenne. I add one large white onion, 4 cloves of garlic, and 4 dried ancho chiles.
I cook the meat in an Instapot it for 45 minutes or crockpot on high for 4 hours or until the meat is to it k tender. Once done I separate the meat from the liquid and vegetables and blend into a thick sauce. Then I strain the processed sauce back into the instapot and over the meat. I pull the tender meat with two forks and season south salt as needed.
Ingredients
1 lb pulled beef
1 Can white corn
1 Can black beans (drained)
1 Can Pinto beans (drained)
Shredded Cheddar Cheese
Shredded Pepper Jack Cheese
Chopped Fresh Cilantro
Homemade Tortillas Chips
On the stove top heat up 1 lb of pulled beef, one can of corn drained, one can of black beans strained, and one can of pinto beans strained until at a light boil. Season with salt and pepper to taste.
Lay a single layer of nachos on a cookie sheet. Evenly spread your beef mixture over top of your nachos chips. Top with a mix of cheddar and pepper jack cheese. Add another layer of nacho chips and repeat the process.
Bake at 350° for 15 minutes or until the cheese is perfectly melted.
Once out of the oven sprinkle chopped cilantro on top.
Additional toppings that will kick these nachos up a notch could be chopped tomato, chopped raw onion, chopped olives, pickled or fresh jalapeños, and the list goes on.
Serve with your favorite salsa, sour cream, and guacamole!