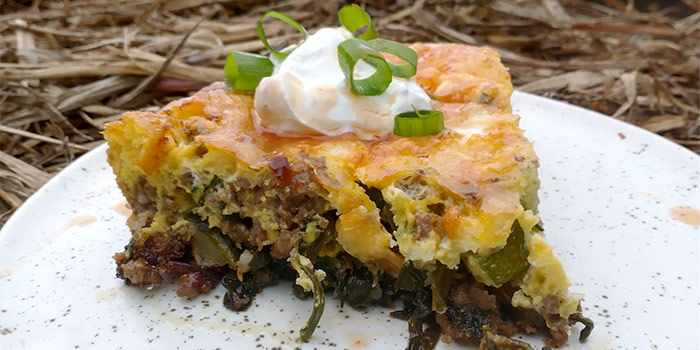 The Creation of Lilly Den Farm Spring Piggie Pie
I know you are asking why on earth we named this delicious and easy recipe that can be made for any meal of the day, Piggie Pie?
The answer is so simple and so sweet. Every night I try to read to my kids. One of Rye's favorite books that he wants to read almost every night is Piggie Pie by Margie Palatini.
One morning he asked if we could make Piggie Pie for breakfast. I asked him how we can make Piggie Pie. We didn't have the right ingredients and all of the ingredients were straight up repulsive (eye of a fly, rattlesnakes rattle, opossum hair, and 8 plump piggies). Rye's response was that we had 8 plump packs of sausage that come from 8 plump piggies.
That is how this recipe was created!!
It is pretty simple and extremely versatile. I use a pack of Lilly Den Farm loose hot sausage and whatever fresh vegetables are in season. I never make it in a pie crust, but I would imagine that it would be a great addition to the recipe.
Ingredients
1 Pack Lilly Den Farm Hot Loose Sausage
1 Head of In Good Heart Farm Swiss Chard
1 Bunch of In Good Heart Farm scallions (whites and greens)
2 Medium size Plant Factory zucchini diced
2 Cups Shredded Cheddar Cheese
1 Cup Shredded Gruyere cheese
1 Dozen Lilly Den Farm chicken eggs
1/4 Stick butter
Directions:
In a cast iron pan or a pan that will transfer into the over sauté up your pound of sausage into crumbles. Add diced vegetables (swiss chard, scallions, and zucchini) and butter to sausage and sauté for 3-5 minutes.
In a separate bowl beat 12 eggs. Add all your cheese and mix into eggs. Pour egg mix on top of sausage and veggie. Do not mix. Put in a 400 degree oven and back for 20 minutes until eggs are completely cooked through.
Let sit for 10 minutes before serving.
Serve with Lilly Den Farm plain yogurt or sour cream and your favorite hot sauce.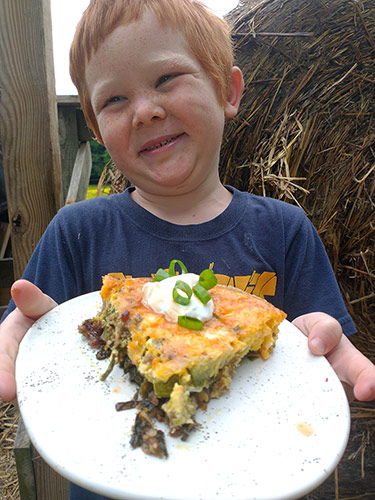 There are so many ways to change this recipe. Use whatever vegetables you have in your fridge. Celebrity Dairy goat cheese is another awesome addition. However you choose to make your Piggie Pie be sure to start with one plump pack of Lilly Den Farm's country sausage!
I would love to hear how you made your Piggie Pie and see all the pictures! Post on our Facebook or Instagram pages.