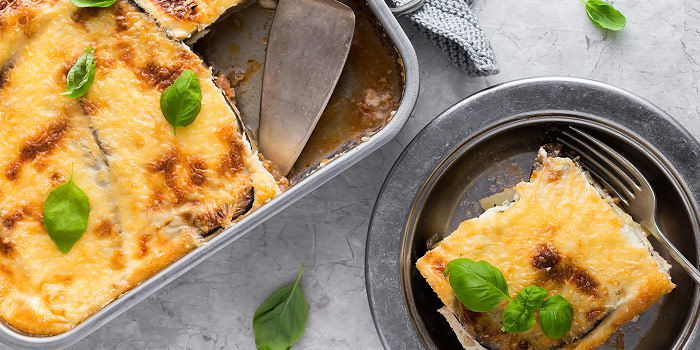 4 TBSP. Butter Or Olive Oil
2 Medium Onions, Diced
3 Or More Large Cloves Garlic, Minced
1 Tsp. Ground Cinnamon
1/2 Tsp. Ground Cloves
2 Pounds Grassfed Ground Beef
2 Cups Chopped Tomatoes Or Canned Crushed Tomatoes
1/3 Cup Dark Or Golden Raisins
1 lb. Eggplant, Cut Into ¼" Thick Slices (About 2 Medium)
Salt And Pepper
3 Cups Mashed Potatoes (Leftovers Or Fresh)
1 Large Egg, Beaten
Heat 2 Tbs. butter in a 12-inch ovenproof skillet over medium-high heat. Saute onions until tender, about 5 minutes. Add garlic, cinnamon and cloves; cook about 1 minute. Add meat, stirring to break it up, and cook about 5 minutes. Stir in tomatoes and raisins; simmer 10 minutes.
Arrange eggplant slices on a cookie sheet. Brush both sides with remaining oil, and season with salt and pepper. Broil on upper oven rack, turning once with kitchen tongs, until golden brown, about 5 minutes per side.
Pour the meat mixture into a casserole dish. Lay eggplant in a single layer over meat mixture. Whisk egg into mashed potatoes; spread over eggplant. Bake at 400 degrees on lower rack until sauce is bubbly and potatoes are browned, about 20 minutes.