Homemade Lasagna: It is as Easy or as Hard as You Choose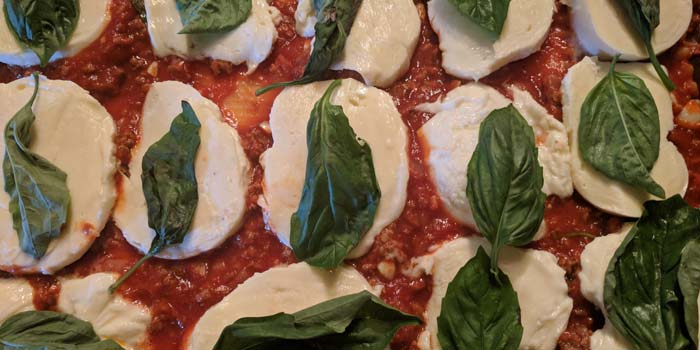 I was always under the impression that you needed to devote an ENTIRE day of your life to making a tray (or 2 – one to put in the freezer for a treat in the future) of lasagna.
After all, that is what my mom and dad did growing up. They would be working on making all the different layers of the lasagna when I woke up in the morning. The sauce alone had to simmer on the stove top all day long and when I say all day I mean ALL DAY. I remember it being the best day because the house always smelled so good, there was a big pot of sauce to dip in (there was always a loaf of Italian bread from an awesome Italian deli sitting nearby), and dinner was nothing less than fireworks exploding in your mouth. It was worth every second of their time and energy, or at least I thought.
This is exactly how I made lasagna when I first got married. I took the entire day and at the end of the day we were rewarded greatly. But then I had children, 4 to be exact, who I homeschool. I run a farm and all the marketing for our business and my days are busy from sunup to sundown. ALL my days are busy. The last thing I have time for is to make a dinner that will take an entire day of me being inside.
But there was a problem with this. My daughter, Lilly, absolutely loves lasagna and will beg for me to make it. So I had to come up with a way to make lasagna that tastes amazing with fresh ingredients but didn't take an entire day to cook. As a matter of fact, I needed to figure out how to do this in about an hour because that is about all the time I have to spare to make dinner.
Guess what? I did it! Not only did I figure it out but my lasagna is better now then it ever has been.
Moral of the story is that making lasagna can be as easy or as hard as you want to make it but as long a you are using fresh and local ingredients it will always come out awesome.
Lasagna Noodles:
This is the biggest step I changed that saved me so much time. Buy the oven ready lasagna noodles. It is one less thing you need to do before you layer your lasagna. But make sure, and this is VERY IMPORTANT, that when you layer your lasagna you are overly generous with you sauce and cheese mixture. It is all the liquid that will cook your noodles. If you don't put enough in you will have a very dry tray of lasagna
Layers:
Each layer of the lasagna is made up of 3 components. You have your meat sauce layer, your cheese mixture layer and your pasta. Each of these component need to be generously and evenly distributed over you pasta to allow you pasta to absorb moisture. But it is in these mixture where you decide how slow or how fast your lasagna is going to take to make.
Meat Sauce:
It is important to cook your meat in your sauce so that it is full of flavor and not dry. Of course, the more meat the better. If you are lucky enough to have an abundance of fresh field tomatoes you can make a sauce that will knock anyone's socks off but you are talking about a big project. Tomato sauce from field tomatoes is one of those things you make in a 10 gallon pot and freeze it so you have it all year. This does take a lot of time but believe me it is worth it. (I will give the recipe at the end of this blog)
Quick Meat Sauce:
You will need a pound of ground beef, a pound of ground veal and a pound of Italian sausage. The more meat the better is the way we roll in our house. Next two large onions diced and an entire head of garlic diced and sauteed in a little olive oil and salted Finally, 3-4 big cans of crushed tomatoes.
Saute up your onions and garlic until they are transparent. Add all your meat, season with salt and cook it until it is completely cooked through. Add your 3 – 4 cans of crushed tomatoes and simmer until all the flavors marry. It's that simple.
Cheese Mixture:
Homemade mozzarella and ricotta cheese is undoubtedly the best way to go but who has the time for that. If you do and you have access to raw milk than go for it but if not here is what you can do.
In a large bowl add 1.5 cups of whole milk ricotta, 2 cups whole milk cottage cheese ( this is especially important if you are using the no boil pasta), 3 eggs, 1 cup parmesan cheese, 2 cups shredded mozzarella cheese and some fresh (or dry) parsley. Mix it all together.
Layering:
First, cover the bottom of your lasagna tray with sauce and use a generous amount of sauce, lay your pasta on top of the sauce, top with more sauce and top the sauce with the cheese mixture. Then add your second layer of pasta, sauce and cheese. Keep layering until the last layer lay down your pasta, add your sauce and top the entire tray with fresh (or shredded) mozzarella. Fresh is better. If you don't have the time to make it you can get it in the deli section of your local grocery store.
Cooking the Lasagna:
Cover your lasagna, that probably weighs about 10 pounds, with tin foil and let sit for a couple of hours or even overnight. This will give the pasta time to absorb all those wonderful juices from the cheese and sauce.
Bake on 350 degrees covered for 45 minute and 30 minutes uncovered. It is ready to come out of the oven when the cheese is slightly browned and the sauce is bubbling. Let sit for at least a half hour.
You are ready to enjoy! Lasagna is served best with the extra sauce, garlic bread, a simple fresh salad with Italian dressing, a glass or 2 of red wine and friends, of course.
Field Tomato Sauce:
(This recipe is for every gallon of tomato sauce you make)
To start freeze your tomatoes the night before. This is an easy way to take the skins off of them. Take the tomatoes out of the freezer and let them sit for about 15 minutes. I skins will pull right off easy peasy. Blend your tomatoes in a blender or food processor. You can make them as smooth or as chunky as you would like. Set aside your pureed tomatoes.
In a gallon pot saute 1 diced large white onion and one diced head of garlic in a little bit of olive oil seasoned with salt until the onions are transparent. Add a large can of tomato paste and incorporate into your onions and garlic. Add your pureed tomatoes and stir well. Simmer the sauce all day until it thickens and becomes a rich red color.
Let cool and put into gallon bags. Lay the bags flat in the freezer to freeze.
Meat Sauce:
Freeze your sauce without the meat. Add your meat as you use your sauce.
Saute another onion in a little olive oils with salt until transparent. I add my meat a little more salt and cook it through. Then I add my sauce from the freezer and let come to a light boil on simmer.