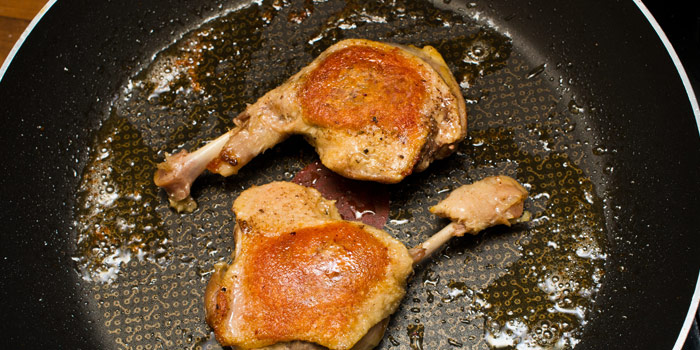 Easy duck confit recipe:
Brine Ingredients:
1 Cup Kosher Salt
1 Head Crushed Garlic*
4 Sprigs Fresh Thyme*
4 Sprigs Fresh Rosemary
1 Cup Brown Sugar
2 Bay Leaves
1-2 Gal Cold Water
Duck Ingredients:
Lilly Den Farm Fresh Duck*
Salt
*These ingredients can be found at the Pittsboro Farmers Market in the fall.
Directions:
Make your brine by bringing a half gallon of water to a boil. Dissolve your salt and brown sugar in the boiling water. Once dissolved, add the rest of your water and additional ingredients. Refrigerate until the brine is completely cold. Add your duck into brine for 12-24 hours.
Note: Brining is optional. You can make duck confit without brining the duck first.
Easy Duck Confit:
Take the duck out of the brine and pat dry. Let sit for 15 minutes to finish drying off. Poke the skin of the duck all over. This will let the fat naturally come out of the duck while cooking. Salt the duck very generously. Place the duck legs skin side up in a greased high-sided baking dish. You want the meat to touch, but not overlap. Place in a non-preheated oven at 285° F for 90 minutes up to 2 hours. After 90 minutes you should notice that the duck is pretty submerged in its own fat and the skin is starting to brown.
Increase the heat to 375° F and cook for 15 more minutes or until your duck is crispy.
Remove the finished duck from the fat and let sit for 15 minutes before diving in.
You can strain the duck fat through a cheesecloth and use it for cooking. It will store for up to 6 months in a tightly sealed container and kept in the fridge.
Note: I like to confit the legs and roast the breast. Feel free to confit the entire duck if you would like.
Season the duck breast with salt and pepper. Put in a 400° F oven.
Medium Rare: About 6 minutes or until internal temperature reaches 135° F.
Well Done: About 10 minutes or until internal temperature reaches 165° F.