Twice Baked Potatoes in Fried Skins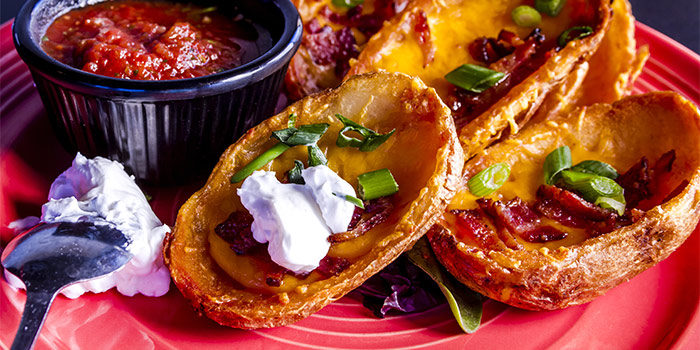 It was a holiday tradition at my childhood house to have twice baked potatoes at our Christmas dinner table.
I waited all year for this dish that my dad only made once a year. I took the largest serving totally disregarding the lovely Standing Rib Roast that was supposed to be the main attraction on the holiday dinner table.
As an adult, I am keeping the tradition alive with my own special twist of fired skins and the ultimate bacon bits made from Lilly Den Farm bacon ends.
Ingredients
2 Large baking potatoes
1 Pack of Lilly Den Farm bacon bits
1/2 Cup sour cream
1/4 Cup Lilly Den Farm cream
4 TBSP. Butter
1/2 Tsp. Salt
1/2 Tsp. Pepper
1 Cup shredded sharp cheddar cheese, divided
8 Green onions, sliced, divided
Directions
Step 1: Bake Potatoes: Preheat oven to 350˚ F. Bake potatoes for 1 hour or until fork tender.
Step 2: Make Potato Mixture: When potatoes are done let them to cool for 10 minutes. Slice potatoes in half lengthwise and scoop the flesh into a large bowl; save skins. To the potato flesh add sour cream, milk, butter, salt, pepper, 1/2 cup cheese and 1/2 the green onions. Mix with a hand mixer until well blended and creamy.
Step 3: Fry Potato Skins: Fry empty potato skins in canola oil until the are browned. Let drain on paper towel and sprinkle with a pinch of salt.
Step 4: Stuff Skins and Bake: Spoon the mixture into the potato skins. Top each with remaining cheese, green onions, and bacon. Bake on 350˚ F for 15-20 minutes until cheese is melted.