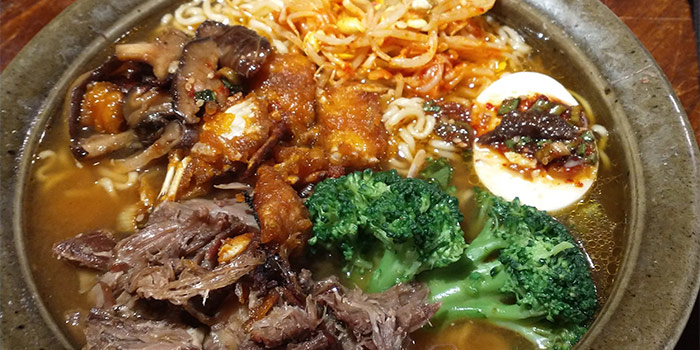 Everyone loves Ramen.
This fun dish allows you to get creative and artistic. Add any garnish, vegetable, meat, or hot sauce you want. It is always good.
Keep in mind this is a great empty out the fridge using leftovers meal. Here is a simple ramen recipe I made with stuff I had in my fridge.
Ingredients
4 Green onions, chopped
2 Cloves garlic, chopped
1 TBSP. grated Granite Springs Farm fresh ginger
1/4 Tsp. Red pepper flakes
3 TBSP. Olive oil
4 Cups Beef broth
1 TBSP. Fish sauce
1 TBSP. Soy sauce
Ramen Noodles
1 Pack Lilly Den Farm Beef Stew
Bean sprouts
Steamed broccoli
Hard boiled egg
Sautéed mushrooms
Directions
In an InstaPot, add one pound of Lilly Den Farm beef stew. Season with soy sauce, fish sauce, salt, and garlic powder. Add water to cover half the meat. Set for 45 minutes. When done pull meat and set aside.
In a saucepan over medium heat, soften the white parts of the onions, the garlic, ginger, and red pepper flakes in olive oil. Add the broth, water, fish sauce, and soy sauce. Bring to a boil and simmer for 10 minutes. Adjust the seasoning as needed.
Add the noodles and cook for 3 minutes or until tender. Add broth, if needed.
Pour the soup into bowls. Garnish with the meat, bean sprouts, the green parts of the onions, broccoli, egg, and mushrooms. Add your favorite asian inspired hot sauce. Enjoy!