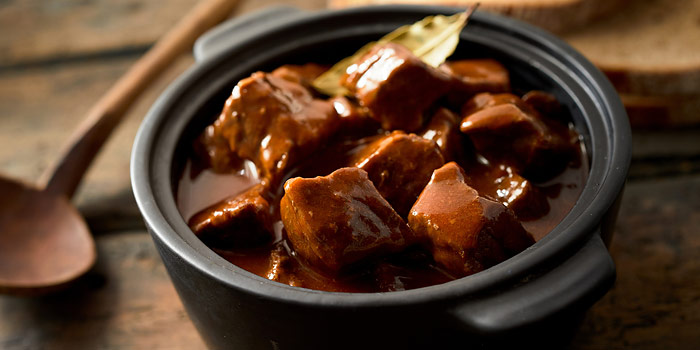 2 Lbs. Stew Meat – Chuck, Boiling Beef, Brisket, Or Shanks
½ Lb. Bacon Or Ham
2-3 Cooking Onions, Peeled And Sliced
Dusting Of Flour (Optional)
1-2 Bottles Stout Or Porter
1 Qt. Of Stock Or Water
2 Bay Leaves
Sprig Of Thyme (Or 1-2 Tsp)
Some Parsley
Up To A Lb. Of Mushrooms, Sliced
Some Butter To Fry The Onions And Mushrooms
Cube the stew meat and the pork. Cut the beef a little bigger than the pork – think beef stew size. Heat some butter in a heavy frying pan and sweat the onions. Once they have some color, transfer them to a stew pot or slow cooker. Toss the beef chunks in the flour if you like, then brown the beef in the fry pan in batches. Do the same with the bacon, transferring the meat to the stew pot when it's browned.
Once all the meat is browned, pour a little of the stout into then and scrape it with a wooden spoon or spatula to get all the brown bits into the stew pot. Pour the rest of the porter into the pot with the stock. Add water if the meat is not covered. Bring to a slow simmer, and reduce heat. Add herbs (tied with cloth) and some pepper. Simmer slowly all day in the slow cooker or for 2 ½ – 3 hours on the stove-top.
About an hour from the end of cooking, fry the mushrooms in the butter. Add them to the soup along with the aromatic herbs and simmer slowly for the rest of the cooking time.
Serve with mashed potatoes or lentils.
Source: The River Cottage Meat Book