Tucker Judges The Junior Dairy Show in Manatee County, FL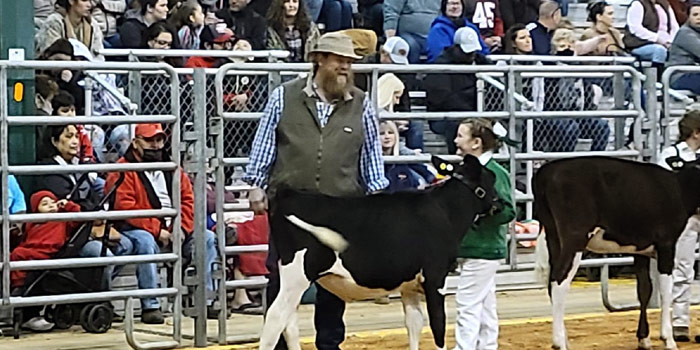 Tucker judged a Jr. Dairy Show this weekend in Manatee County, FL and this is the bio written about him. They read it while he was judging and I was in tears. I thought it would be a great blog post so people can learn more about what an outstanding human Tucker is…
It's my pleasure to introduce you to tonight's judge Mr. Tucker Withington. Tucker is the owner and operator of Lilly Den Farm located in Goldstein, North Carolina. Tucker has exhibited cattle at local, state and national shows and has fitted some of the greatest cows on the circuit.
Tucker grew up on a small dairy farm in Schoharie, New York, where his family milked 30 registered Guernsey cows. This is where he developed his passion for showing dairy cattle and his love for farming.
This passion seems to be contagious among his children, who along with the help of their dad have exhibited class winners at World Dairy Expo in Madison, Wisconsin and the North American International Livestock Show in Louisville, Kentucky. They have also owned numerous All-American and Jr. All-Americans nominees. One of the family's highlights from the 2021 show season was exhibiting the Supreme Grand Champion at the North Carolina State Fair.
Tucker has judged a number of local and state shows and also teaches showing and fitting clinics for the North Carolina State University Dairy Program.
Tucker, along with his wife Mackenzie own and operate, Lilly Den Farm, which is a small family farm that raise a variety of natural meat, dairy and farm products which they sell at local farmer markets, on-site at the farm and just recently out of their new food truck and retail store.
Tucker and his family, also host farm camps that connect children to the wonder and beauty of the farm life through food, nutrition and farming. Young farmers join the family for a week of learning about sustainable agriculture and animal husbandry while also learning how to make cheese, yogurt, butter and ice cream.
Tucker was honored in 2013 as the Carolina Farm Stewardship Association's Young Farmer of the Year.
Tucker and his wife Mackenzie, together with their four awesome children, Dennet, Lilly, Meadow and Rye, have worked to grow Lily Den Farm into a successful, sustainable, business within their community that continues to grow due to their hard work, dedication, and their family-wide passion for the industry.
Written by Beth Holcomb.