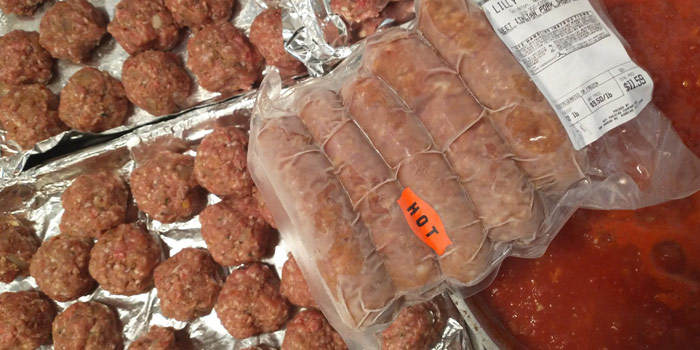 My family absolutely loves meatballs.
They love to eat them as a snack as soon as they come out of the oven. They love to eat them over pasta with their favorite marinara sauce. They love to heat them for lunch the next day loaded with parmesan cheese and they love a hot meatball sub with stringy melted cheese.
I love meatballs because I can make a bunch all at once and freeze a couple of meals worth for when life gets hectic. I am all about taking a little pressure off for those long days where making dinner just becomes a dreaded chore. Meatballs freeze and heat up great!!
Meatballs are also great if you are on a low carb diet. I often put breadcrumbs in my meatballs to hold them together but you really don't have to. Honestly, I can make a bowl with meatballs, lots of marinara sauce, fresh grated parmesan cheese and crushed red pepper and NEVER even miss the pasta. Serve it will a fresh salad lightly dressed with Italian dressing and you will be full and satisfied.
My meatball recipe is so easy and so delicious. Try it!! You will be happy you did.
Ingredients
1 lb Lilly Den Farm Ground Beef
1 lb Lilly Den Farm Ground Pork
1 lb Lilly Den Farm Ground Veal
1 Large Onion
5 Cloves Garlic
3 Eggs
2 Cups Fresh Grated Parmesan Cheese
1 TBSP Salt
1 Cup Italian Seasoned Breadcrumbs (optional)
1 Cup Fresh Parsley
1 TBSP Garlic Powder
Directions
Score and chop onion. Mash and chop garlic. Sauté onion and garlic on low in a little bit of olive oil until transparent.
In a large bowl mix together all ingredients. Don't over mix. Mold meatballs and place on a cookie sheet. Bake on 350 for 45 minutes.
Other Cooking Options
Fry in olive oil
Cook in marinara sauce
Half cook in the oven. Finish in sauce. (This is my favorite way).
If you plan to freeze some for future meals don't cook them all the way. This way when you go to heat them up they don't dry out.
Now, go get you some Lilly Den Farm ground meat and make your family meatballs. You will be their hero!