Lilly Den Farm & The Carolina Brewery: A Relationship Built on Farming, Beer, and Good People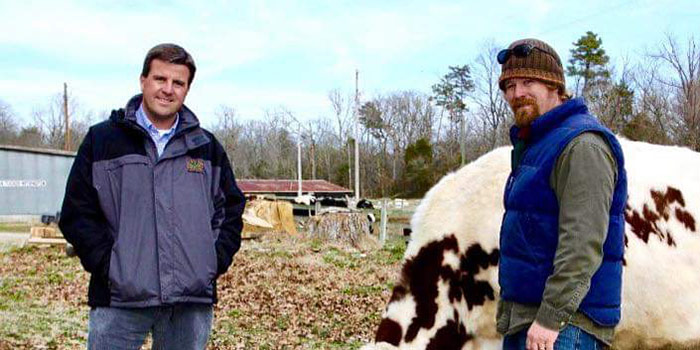 Lilly Den Farm was built with hard work, dedication, education, and an undeniable commitment to provide the highest quality meat, dairy, and eggs to our community.
Tucker and I, along with our strong, knowledgeable, hard working kids, put blood, sweat, tears, and so many smiles into our farm on a daily basis. Along with our passion for farming we have had some good fortune along the way. The Carolina Brewery has always been a great supporter, resource, and ally that has helped form and mold Lilly Den Farm into what we are today.
The Beginning
Tucker and I moved to Goldston, NC from Homer, NY to build our farm and Tucker's life long dream. Truth be told, one of the major reasons we picked this area was the grand opening of the Carolina Brewery and Grill in Pittsboro. We knew if there was a brewery near by we would surely fit in and be happy.
I flew into Raleigh to go on a couple of job interviews before we moved. After many hours of interviewing I would go into the brewery for a much needed beer and good conversation. I remember it like yesterday, even though it was 12 years ago. Jen Cordaro was my bartender. She made me laugh, fed me awesome beer, and made me feel like I belonged. We are still friends today.
After we made the move to North Carolina times got tight, financially, for us. Tucker was starting to build up our farm and I was teaching. We needed extra income so I went to the brewery and they hired me as a part time server. I made enough money to keep us afloat, but more importantly I made our first friends in the new area. Working at the brewery allowed us to finally feel like we were welcome in our new hometown. Tucker quickly became friends with all the staff at the brewery as well. Our friendships remain strong today.
Our First Farmers' Market
In 2009 the brewery started to host a Saturday Farmers' Market and encouraged us to be a part of it. We excitedly accepted the offer and began our first farmers market bringing only beef and pork. Every Saturday, Tucker and I looked forward to spending our mornings with other local farmers, our friends at the brewery, drinking good beer and making a little money. Even though the brewery doesn't host a Farmers' Market anymore, eleven years later we still look forward to our same Saturday mornings slinging meat, milk, eggs, and produce at the Carolina Brewery, seeing our brewery friends, and drinking good beer.
Lilly Den Farm's Farmers' Market History
The Carolina Brewery's Saturday Market was our first market and it hooked us. We quickly joined other local markets. With the end of the Carolina Brewery Farmers' Market in 2011, we joined a different Saturday market but we were always welcome to return to the brewery during the winter months to sell our products. As the years passed Lilly Den became active in the community, met tons of amazing people, and Lilly Den Farm become a piece of the Pittsboro puzzle.
Our Struggle
Tucker and I decided that it was time to grow our family and in 2013 we had Meadow. I took maternity leave from my teaching job and decided it was my chance to join Lilly Den Farm full time. At the same time Tucker and I were given an opportunity to expand our business. It seemed like a no brainer. With very little time and thought we grew Lilly Den's milk production. Long story short, 2014 was a year of many failures. But with failure comes growth. We moved back to our home farm in Goldston and back to our original Saturday morning market location at the Carolina Brewery where, still today, we set up and sell our products year round. Despite all the setbacks, the Carolina Brewery stood by our side, had our backs, and welcomed us back to their location.
Brewers Grain
Lilly Den Farm has been picking up all the Carolina's Brewery's spent brewer's grain for 11 years. At the beginning the brewery was brewing 3-4 single brews a week. We were picking up 5,000-6,000 pounds of spent grain a week and feeding it to our small herd of pigs, dairy cows, beef cows, and chickens. Today, on average, the brewery brews 9 brews a week and Lilly Den Farm picks up about 13,000 pounds of grain a week.
Over the years we watched the brewery expand two times tripling their brewing capacity. We watched them add a canning room where they are canning beer and distributing throughout North Carolina, as well as delivering beer in South Carolina and Tennessee. Today you can find their award winning craft beers in Harris Teeters, Food Lions, Lowes, and many beer caves along your travels.
The one thing that has remained constant in all the growth from the Carolina Brewery and for Lilly Den Farm is that they brew amazing beer and we feed all the spent grains to our animals. We have grown together for 11 years. I am excited to see what our growth will be in the next 11 years.
From Pint to Pasture to Plate
What makes our relationship so neat is that we take the spent grain to finish our beef herd. When finishing our cows on pasture the only other source of nutrition they get, besides grasses, is the spent grain from the Carolina Brewery. This gives us a unique opportunity to have a grain finished product with no corn or soy in their diet; consistently resulting in a healthy and delicious product. We sell this ground beef back to the Carolina Brewery. This gives the brewery the opportunity to sell locally raised meat that was finished with their spent brewers grain.
Lilly Den Farmhouse Ale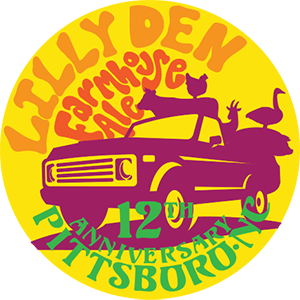 It is such an honor that the owners, management, brewers, and staff of the Carolina Brewery decided to brew a beer and name it after Lilly Den Farm. In August the brewery will celebrate their 12th Anniversary in the Pittsboro location and will release the Lilly Den Farmhouse Ale. We will team up to celebrate our relationship and their anniversary in week packed with fun events. Mark you calendars and be sure to join us as we raise our pint glasses to farming, beer, and good people.