Keto Style Stuffed Peppers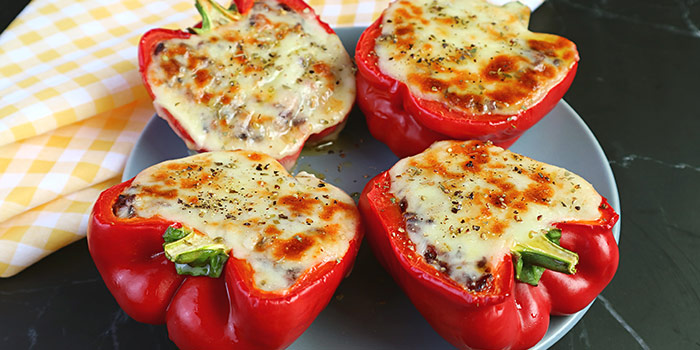 This is the best time of year to make stuffed peppers!
All the local farmers are loaded down with the most delicious peppers you can ever get! Pair the peppers with local meat and you just can't loose.
Ingredients
1 lb Lilly Den Farm Loose Hot or Mild Sausage
1 lb Lilly Den Farm Ground Beef
1 Medium onion chopped
3 Cloves garlic minced
1 Tsp. Dried oregano (optional)
1 Tsp. Paprika
1 Tsp. Salt
1/4 Tsp. Pepper
2 TBSP. Olive oil
1 TBSP. Tomato paste
1 Can Rotell
1 1/2 Cups cauliflower rice (1 1/2 Cups cooked rice if not doing Keto)
6 Bell peppers tops and cores removed or poblano's cut in half)
1 Cup shredded Monterey jack cheese or cheese of choice
Directions
Preheat oven to 400° F.
Heat the oil over medium high heat. Add the onion and garlic and sautéed until lightly transparent. Add beef, sausage and spices and brown for 5-7 minutes until meat is fully cooked but not over cooked.
Add in the tomato paste, Rotell (drained), and cauliflower rice. Cook 5 minutes, then divide the mixture between the peppers and top with cheese.
Wipe out the skillet then place the filled peppers in the skillet, cover and bake for 30 minutes, uncover and bake another 10 until the cheese is bubbly.
Top with parsley and serve.