Italian Chuck Roast with Root Vegetables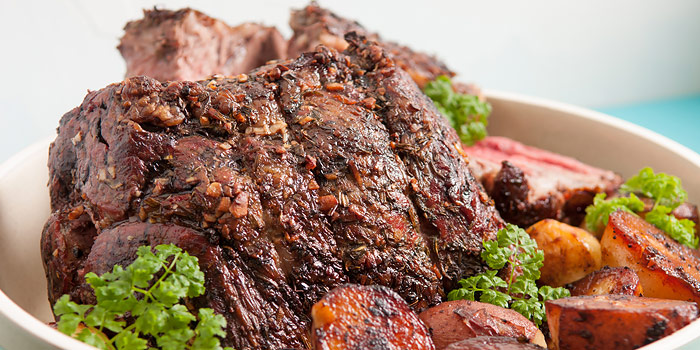 1 Chuck Roast
1 Cup Chopped Bacon/Pancetta
3 TBSP. Olive Oil
2 Cloves of Garlic
Sliced Carrots
Sliced Beets
Quartered Sweet Potatoes
2 Sprigs fresh Thyme
Pinch of Nutmeg
Salt and Pepper to Taste
4 TBSP. Red Wine or 2 TBSP. Brandy
Put 3 TBSP. of olive oil into a large cast iron skillet. Then add the garlic and saute for a minute or so.
Add all of the sliced root vegetables and the thyme. Saute until the carrots are browned.
Season vegetables with salt, pepper and nutmeg. Cook a little while longer.
Remove the vegetables from the cast iron skillet and set aside.
Season the chuck roast with salt and pepper.
Brown all side of the roast in the cast iron skillet on high heat.
Add the wine or brandy and cook until it evaporates.
Off the heat, remove the roast from the skillet and add 2/3 of the bacon to the bottom of the skillet.
Place the roast on top of the bacon and then add the vegetables.
Place the remaining bacon on top of the roast.
Add a bit more red wine to the vegetables.
Cook in the oven at 250 degrees for about 2 hours until tender.
Source: Silver Spoon Italian Cookbook