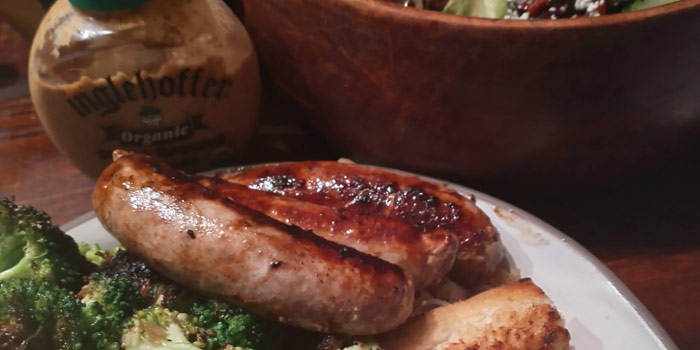 Easy Grilled Bratwurst Recipe
With Memorial Day right around the corner I thought it would be appropriate to give you a super quick extremely easy recipe that will feed a small family or a large crowd.
One of our go-to dinners is grilled bratwurst on a toasted bun with stone ground mustard. The reason this dinner is so great is not only because it is easy but you can change it up very easily and make it fun!
Ways to cook your Bratwurst
Cast Iron Pan
If you are feeding just your family a cast iron pan is an easy and delicious way to go. Simply brown your bratwurst on all sides. Once brown, add a half a can of your favorite beer and let simmer until cooked all the way through. Once cooked all the way through re-brown your outside.
Grill
Cooking bratwurst on the grill is so easy. My favorite way to do it is to light one side of the grill or only put hot charcoals on one side. I cook the bratwurst in indirect heat, with the lid on. This way I don't have to hover over the grill the whole time. They will cook completely within 30 minutes. Then I take the lid off the grill and brown them over direct heat.
Flat Top Grill
Cooking bratwurst on a flat top grill is a great way to feed a ton of people all at once. I turn my flat top to medium heat and put the bratwurst on and let them start cooking as the grill is getting hot. I rotate them so they brown on all sides. Once the grill is really hot I occasionally splash with my favorite kind of beer. When I cook bratwurst on the flat top I always cut one open to see if it's cooked all the way through before I pull them off.
Open Fire
Cooking bratwurst over open fire is by far my kids favorite way to cook brats. It's important to keep in mind that Lilly Den Farm brats are not precooked so you will need to cook them all the way through. Let the kids Grill them on Long sticks and then I have a grill grate from an old grill that I keep to finish them off. It might be the tastiest way to make a bratwurst but definitely the most labor intensive.
Sides for Bratwurst
Mustard
Mustard pairs well with bratwurst and with the variety in the grocery store is there sure to be a mustard to fit everyone's taste buds.
Sauerkraut
Sauerkraut is my favorite topping for bratwurst. I love homemade (I buy at the farmers market or from a friend) sauerkraut or kimchi but in a pinch I'll get a can from the grocery store.
Grilled Onions
Because grilled onions taste good on everything!
Coleslaw
Coleslaw is a great cold topping on bratwurst especially when paired with baked beans.
Bratwurst are great when served with cheeseburgers, hot dogs, corn on the cob, and other outside barbecue foods. They always seem to be a crowd favorite at Lilly Den Farm.