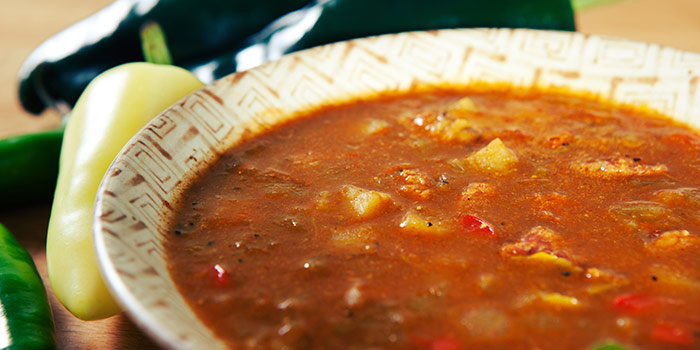 8 Cups Water (chicken broth is better)
3 Cups Chopped Green Chile (charred skins – 6 to 8 removed)
2 Cups Chopped Fresh Onion
1 Cup Chopped Tomatoes
2 1/2 Tsp. Salt
5 Cloves Fresh Garlic
1 Pinch Dried Oregano or Teaspoon Fresh
1 lbs. Pork Loin (any cut will do, loin minimizes trimming time)
3 TBSP. Oil (or lard)
1/2 Cup White Flour
Combine the water (or chicken broth) green chile, onions, and garlic. Simmer for a couple of hours. Meanwhile grill the pork on the grill.
Note: Do not smoke the pork, the smoke flavor will overwhelm the dish. You can also cube the pork first and brown in oil, if so do the onion and garlic also.
Cube the grilled pork in 1/2″ cubes, add to the stew and simmer another hour. When the stew is finished simmering it needs to be thickened.
In a separate pot, heat the flour and oil for a few minutes (like you are making a roux). Add 2 cups of the broth from the stew to the flour and oil and whisk into a paste. Add the whisked mixture to the stew to thicken. (Another variation is to whisk the entire pot of stew for several minutes after adding the flour thickener. This breaks up the pork cubes and green chile chunks and produces a very smooth creamy texture.) Bring back to a simmer and it's done. Eat like a stew with tortillas or smother burritos, eggs, beans with lots of it. Makes a great salad dressing if you got the "green chile thing."
Source: pepperfool.com