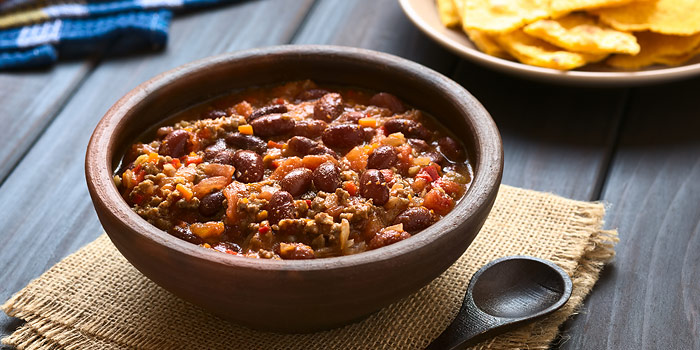 2 lbs. Lean Goat Meat
2 TBSP. Sesame Oil
1 Tsp. Fresh Cracked Black Pepper
2 Large Onions, Chopped
4 Cloves Garlic, Minced
1/4 Tsp. Ginger
1 TBSP. Virgin Olive Oil
3 Cans Kidney Beans
2 Cans Stewed Tomatoes
1 TBSP. Italian Herbs (Fresh Minced Oregano, Marjoram, Thyme, And Sage)
1 Tsp. Cumin Seed
2 TBSP. Chili Powder (Use Hot, Medium, Or Mild Depending On Your Preference)
In a pan brown meat in sesame oil with black pepper. In another pan, saute onions, garlic, and ginger in olive oil. Combine meat and saute vegetables with remaining ingredients in a crock pot and cook on high for 1 hour. Reduce heat to low and continue cooking for 7 hours. Goat chili is excellent served over steamed rice with shredded cheese and diced onions.
Source: Farmhouse Kitchen in Pine Creek Caverns