Braised Pork in Chili Sauce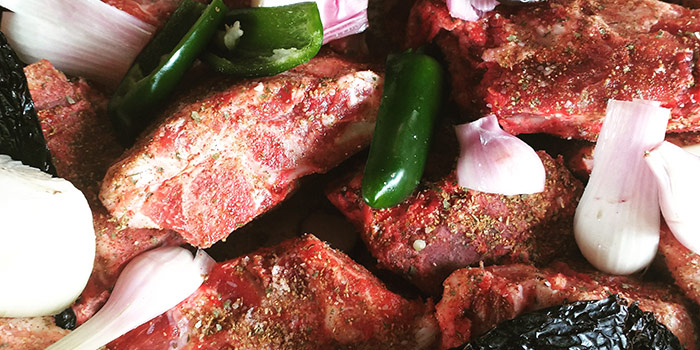 Let's be honest…
Dinners that take hours to prepare with loads of ingredients and multiple steps are not fun on hectic days. Between kids and work no one has time for that.
Just because you don't have a lot of time to cook doesn't mean you have to sacrifice quality or flavor. I am learning that sometimes the best, most satisfying meals are the ones that are quick and easy.
Braising is one of my go to forms of cooking. It is the original set it and forget it. Pile up meat, liquid, and seasonings into a pan. Cover it tightly. Cook it on low heat for some time and it is always going to be tender and amazing.
I like to braise in the oven, but a crock pot is a great alternative if you don't work from home.
Ingredients
3 lbs pork shoulder roast (this recipe works great with pork ribs too)
2 Onions cut in half
4 Cloves of whole garlic
3 Shallots whole
3 Dried ancho peppers
3 Dried chili peppers
3 Jalapeños seeded and cut in half
Salt
Fajita seasoning
One can of beer
Directions
Place pork roast into baking pan or dutch oven. Add onion, garlic, shallots, anchos, chili's, and jalapeños to the pan. Season everything really good. Add can of beer and fill can up with water and add to pan. Cover pan tight with tinfoil or dutch oven lid.
Cook one 300 degrees for 4 hours or until fork tender. It is ready when the meat pulls easily.
Take meat out of the pan and set aside. Place all the liquid and veggies into a blender and blend until smooth. Run blended liquid through a strainer using a spoon to help it along.
Pull or chop pork and place it into your chili sauce. Season to taste.
Serve on brioche buns or tortilla shells. Freeze leftovers for future dinners.