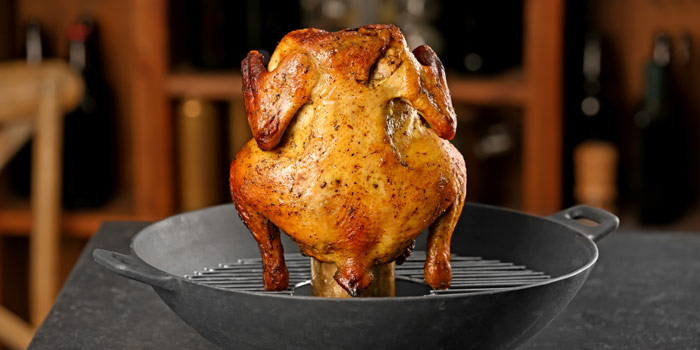 Want an easy dinner that doesn't require much clean up when you are done?
Beer butt chicken is simple and delicious and because you have to cook it on a grill, cleaning up is a breeze. There are 3 simple steps to cooking the perfect beer butt chicken:
Season your Lilly Den Farm whole chicken.
Place it on top of a half full beer can on the grill.
Rotate the chicken and beer every 30 minutes.
You can get contraptions out in the marketplace that will make placing your chicken on a beer can easy. I choose not to use one because I am not one for unnecessary gadgets in my house, but if you love gadgets by all means get yourself one. I suggest getting the beer butt chicken stand with the tray so you can roast your veggies in the delicious chicken drippings.
Speaking about roasting your veggies in the delicious chicken drippings: this is a must. You don't need a fancy gadget to do this. You can use a piece of tin foil or foil baking pan. Regardless, it doesn't take more than a little salt and pepper on your veggies to make this mouth watering side to go along with your chicken.
Ingredients
1 Cup butter
2 TBSP. Garlic Salt
2 TBSP. Paprika
Salt and Pepper to Taste
1 Can Beer
1 Lilly Den Farm Whole Chicken
Directions
Step 1: Preheat an outdoor grill or use a charcoal chimney to let coals heat.
Step 2: In a small skillet, melt 1/2 cup butter. Mix in 1 tablespoon garlic salt, 1 tablespoon paprika, salt, and pepper.
Step 3: Discard 1/2 the beer, leaving the remainder in the can. Place the can on a disposable baking sheet or tin foil with seasoned veggies. Set chicken on the can, inserting the can into the cavity of the chicken. Baste chicken with the melted, seasoned butter.
Cook on indirect heat, rotating the chicken every 30 minutes. Cooking time varies depending on the size of the chicken. Internal temp should read 165 degrees on the thickest part of the chicken.