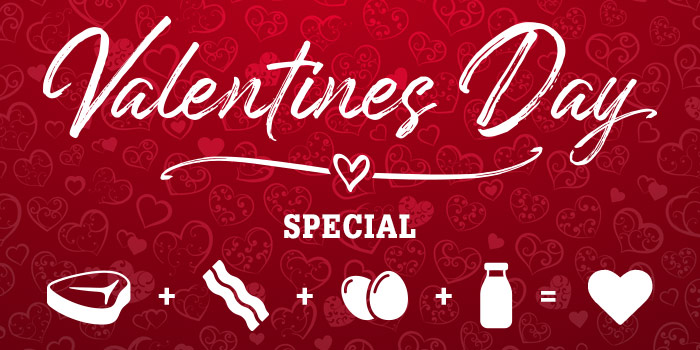 Two T-Bone Steaks, Bacon, A Dozen Eggs, And Raw Fresh Cream: $55
Order a Valentine's Day Bundle to share with your sweetheart.
How To Grill The Perfect Steak:
Heat your gill on high heat. Season steaks with salt, pepper, and garlic powder. Place the steak over direct heat for 4 to 5 minutes. Turn the steaks over and continue to grill 3 to 5 minutes for medium-rare (an internal temperature of 135˚F), 5 to 7 minutes for medium (140˚F) or 8 to 10 minutes for medium-well (150˚F).
The Perfect Breakfast:
Melt butter in an non-stick skillet over medium heat until melted, but not brown. Slide eggs into the pan and reduce heat to medium-low. Cook, spooning butter over top of eggs, until the whites are just set; about 3 minutes.
The Perfect White Russian:
Fill a rocks glass with ice. Pour 2oz Kahlua and 2oz vodka into glass. Pour 2oz heavy cream over top and serve.
Reserve Your Valentine's Day Bundle
Call or text Mackenzie at (919) 356-3150 to reserve your Valentine's Day Bundle.