Pittsboro Farmers' Market: A Hidden Treasure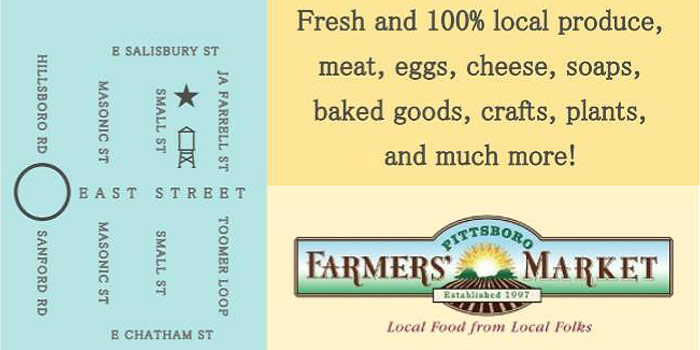 My kids look forward to every Thursday, every week.
They get to see many of their community friends adults and kids alike, meet new friends, play outside, build toy farms, ride bikes, play tag, eat treats, draw with chalk, visit with local farmers, have good conversations. For three hours every week they get to be kids and they love it.
The Pittsboro Farmers' Market has become a treasured part of our beautiful community where kids and adults can gather as the week ends to chill, talk, shop, and unwind. It's friendly atmosphere has drawn folks to take part in this weekly community event.
Small but growing, Pittsboro Farmers' Market has an outstanding group of farmers that come out weekly to share the fruits of their labor. With a great variety of locally raised and produced products there is something for everyone not matter what age or gender.
Granite Springs Farm offers an amazing variety of vegetables through the seasons. Red Roots Farm bringing shiitake mushrooms, green garlic, baby bok choy, and kohlrabi, for starters. Celebrity Dairy Farm offers goat cheeses of all sorts, gelato, fudge, and soaps all from the milk produced off their farm in Siler City.
Need meat?
Lilly Den Farm has all sorts of meat in different cuts and varieties as well as eggs and dairy to give you the extra protein punch you need. Hargrove Family Farm is there, too, with beef, pork, eggs, and vegetables picked fresh that day.
How about something sweet?
Gramma D's has baked goods that are sure to satisfy anyone's sweet tooth.
Gary Thomas Farm joins us during spring and early summer with tomatoes, asparagus, sweet potatoes, and strawberries. Kids love our berry farmers. McNeil's Farm is there with a sweet variety of strawberries. There are always strawberry stained faces in spring and blueberry stained faces in summer. Berries of Cameron and Olde Cathage Farm stock our market with organic blueberries and blackberries, plump and delicious. Summer time offers peaches and melons from Kalawi Peach Farm.
Walk the market and enjoy savory treats from Lu's Farm including stuffed mini breads and vegetable pies or grab a NC natural hot dog from Gun Dogs.
Let's talk breakfast. Route 64 Roaster offers freshly roasted coffee beans and cold brew that will knock your socks off. Bloody Bando is there with homemade, on of a kind, Bloody Mary Mix perfect for Sunday brunch and mark your calendars because every first Thursday Fiddlehead Farm is at market with preserves, jams, granola, seasoning salts, hot sauces, and fresh made bread.
When you are all done getting your weekly groceries stop by Solstice Farm to stock up on natural and herbal beauty and health care products from sunscreen to deodorant and much more. Owl Licks is there with homemade soaps too.
Who knows what else you will find at the market with our weekly pop up guest vendors, local educators, and talented craft artists?!
Pittsboro Farmers' Market is a one stop shop right in the heart of Pittsboro. With live music, story telling, crafts, grills, festivals, and games there is always something happening on Thursday afternoon that will bring smiles to everyone's faces. So mark your calendars, get out, bring the family, meet your local farmers and plan to have a good time.