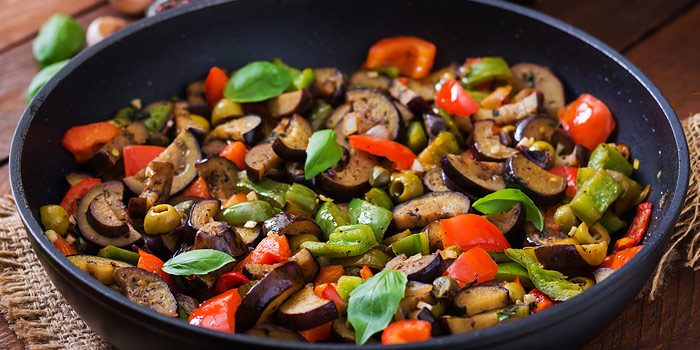 1 Large Eggplant, Unpeeled,Cut In 1/2 Inch Cubes
1 Large Onion, Chopped
1 Green Pepper, Seeded And Chopped
6 Ripe Tomatoes, Chopped (Or 1 Large Can Crushed Tomatoes)
1/2 Cup Chopped Green Olives
3 Cloves Minced Garlic
1/3 Cup Extra Virgin Olive Oil
1/3 Cup Red Wine Vinegar
1 Teaspoon Sea Salt
3 Tablespoons Sugar
1 Tablespoon Fresh Oregano
1 1/2 Tablespoons Fresh Basil
1 Tablespoon Capers, Chopped
Combine all ingredients in a large enameled or stainless steel pot.
Bring to a healthy simmer, stirring occasionally.
You can cook this over low heat uncovered for about an hour, or cover it and cook it over very low heat for several hours.
The slow stewing method blends the flavors very nicely, and the caponata is great reheated.
Serve with garlic bread or croistini.
If you decide to freeze this, it will stay for 2 months.