Barbecue Braised Short Ribs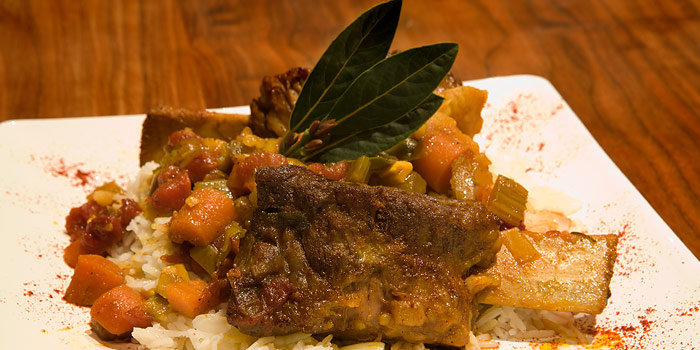 My standard formula for braising is two caramelized onions, some garlic and herbs, bone broth, and some kind of acidic liquid. Short ribs will benefit from the brine described in the recipe section, as the salt will help to draw moisture into the tough tissue. These will work with both lamb and beef short ribs (and probably goat or venison, too):
2 Onions, Chopped
4 Cloves Of Garlic, Minced
1-2 lbs. Of Short Ribs
About A Quart Of Bone Broth (preferably same animal as the meat you're cooking, but even chicken broth will boost the flavor)
1 Cup Or So Of Apple Cider Vinegar
Some Honey Or Molasses To Taste
Good Salt, Fresh Ground Pepper, 2 Tsp. Cumin, Cayenne Pepper, Pinch Cloves, And Herbs
Bring some butter, coconut oil, or lard to heat in a cast iron or earthenware pot, 6-8 quart. Fry the onions until browned, and add the garlic. When the garlic aroma hits you, push the onions and garlic to the sides, and brown the ribs on all sides. You'll have to keep it on medium-high heat for about 30 seconds per side.
Once ribs are browned, add the broth and vinegar, and bring to a slow simmer, and add a bay leaf or two. Turn the heat down, cover loosely, and let it simmer for 2 1/2 to 3 hours.
Pull the ribs out, they should be falling off the bone, and turn the heat up. Allow the sauce to reduce for another half hour. Add the honey, salt, pepper, and herbs and spices in the last 15 minutes of reduction, adjusting flavor to your taste.
Serve ribs with sauce poured over top.