Sustainable Beef
Our cattle are raised on our pastures together with shade and shelter for their comfort and convenience. The cattle are fed grass and locally grown hay. Beef can be purchased whole, halved, quartered, and in individual cuts. Specialty cuts are available upon request.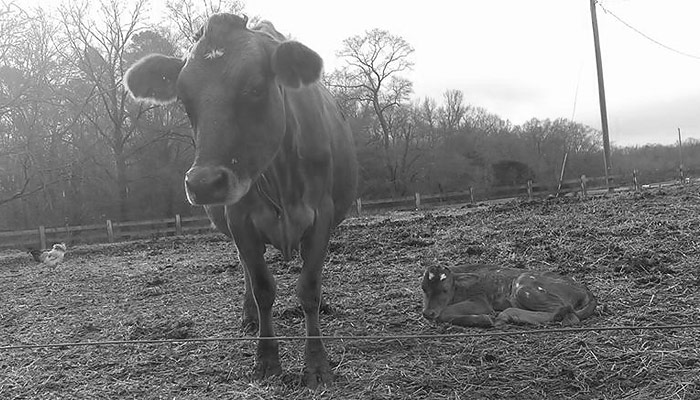 Pricing (subject to change)
Filet

...

$22 lb

Ribeye

...

$17 lb

NY Strip

...

$16 lb

Sirloin

...

$12 lb

Chuck Eye

...

$13 lb

London Broil

...

$11 lb

Skirt/Flank/Flat Iron

...

$11 lb

Cube Steak

...

$9 lb

Sirloin Tip Steak

...

$12 lb

Brisket

...

$10 lb

Roast

...

$10 lb

Ground

...

$8.50 lb

Stew

...

$8.50 lb

Liver

...

$4 lb

Soup Bones

...

$4 lb

Beef Ribs

...

$5 lb

Dog Bones

...

$4 sm / $6 lg
Meat Bundles
Bundle packages are great if you would like to stock your freezer and love variety. These bundles are not automatically billed to your credit card every month. You must manually submit the PayPal button every time you wish to receive a meat bundle.
Of course custom packages are available! Shoot us an email to let us know what you're looking for.
Bundles are available any time. Delivery is available.
Beef Bundle
Each bundle includes:
4 lbs Ground Beef
5 lbs Stew Meat
1 Pack Ribeye
1 Pack NY Strip
1 Pack Short Ribs
2 Sirloin Steaks
1 London Broil
Monthly Variety Meat Bundle
Each bundle includes:
3 lbs Ground Beef
2 lbs Loose Sausage (hot or mild)
2 Packs Linked Sausage (brauts or Italian)
1 Beef Roast
1 Pack Steaks
1 Boneless Chicken Breast
1 Boneless Chicken Thighs
1 Whole Chicken
1 lb Stew Meat
1 Pack Breakfast Maple Links
Hungry Jack
4 lbs Ground Beef
2 Sirloin Steaks
2 Packs of Links Sausage (hot or mild Italian or Bratwurst)
2 Packs Breakfast Maple Links
2 Packs Cube Steak
1 Pack NY Strips (2 Steaks)
1 Pack Pork Chops (2 Chops)
2 Packs Beef Stew Meat
2 Packs Boneless Breast
2 Packs Boneless Thighs
1 Whole Chicken
1 Chuck Roast
1 Pork Roast
Bulk Beef
For quarter beef you get 100+/- pounds of meat (cross section of the cow). You can choose your cuts. It's $7.50 a pound actual weight (you pay for only the pounds you receive). That price also includes processing, vacuumed seal packages labeled with cut and weight and delivery (within reason).
A quarter of beef pretty much breaks down to 30 lbs ground beef, 15 lbs stew, 30 pounds ribs and roasts and 25 pounds steaks. You get to choose your cuts but this is our typical break down. It can totally vary depending on how much stew, roast and ground beef you want.
We also sell halves and whole cows.
Bulk beef requires a $100 deposit:
Filet, Ribeye, NY Strip, Sirloin, Chuck Eye, London Broil, Skirt/Flank/Flat Iron, Cube Steak, Sirloin Tip Steak, Brisket, Roast, Stew, Liver, Soup Bones, Beef Ribs
Rare

...

120°F - 125°F (48.9°C - 51.6°C)

Med-Rare

...

130°F - 135°F (54.4°C - 57.2°C)

Medium

...

145°F (60°C - 62.8°C)

Medium-Well

...

150°F - 155°F (65.5°C - 68.3°C)

Well Done

...

160°F (71.1°C) and above
March 7, 2019
One of the first meals that Tucker every cooked for his newly found city girl, that would be me, was…
August 28, 2018
I was always under the impression that you needed to devote an ENTIRE day of your life to making a…
April 10, 2017
Nothing screams spring and summer like a grilled burger. Grilling the perfect burger is easier than you think, but can…