Sustainable Pork
Our pork is raised in large dirt floor pens that are bedded with local fresh hay. The pigs are comfortable as they have created areas in their pens designated for eating, sleeping, and rooting. Pork can be purchased whole for BBQ, whole cut and wrapped, halved cut and wrapped, quartered cut and wrapped and individual cuts. Specialty cuts available upon request.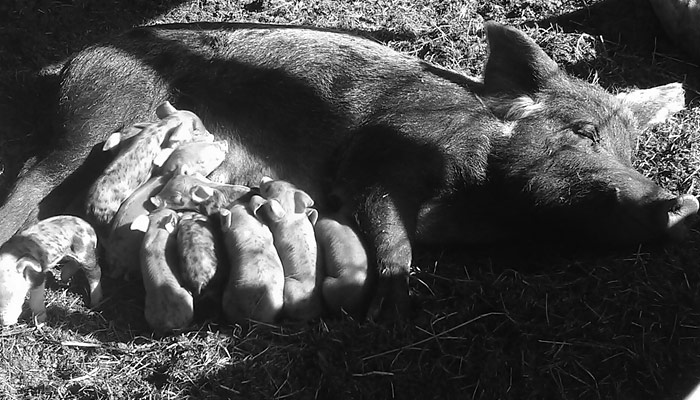 Pricing (subject to change)
Chops

$8.50 lb

Ribs

$7 lb

Sausage

$7 lb

Roast

$7 lb

Ham Steaks

$7 lb

Shoulder Steaks

$7 lb

Ground

$7 lb

Bacon

$11 lb
Med-Rare - Medium

145°F – 160°F (62.8°C - 71.1°C)
Med-Rare - Medium

145°F – 160°F (62.8°C - 71.1°C)
Tender

145°F – 160°F (62.8°C - 71.1°C)
Tender

145°F – 160°F (62.8°C - 71.1°C)
Pre-Cooked Ham (to reheat)

140°F (60°C)
Tender

145°F – 160°F (62.8°C - 71.1°C)
Meat Bundles
Bundle packages are great if you would like to stock your freezer and love variety. Bundles are available any time. Delivery is available.
Of course custom packages are available! Shoot us an email to let us know what you're looking for.
Peddling Pig
Each bundle includes:
4 lbs Bulk Sausage (mild or hot)
2 Packs Italian Sausage Links (hot or mild)
2 Packs Bratwurst
2 Packs Chops (2 chops per pack)
1 Pork Roast
2 Packs Hot Dogs (all pork)
Monthly Variety Meat Bundle
Each bundle includes:
4 lbs Ground Beef
2 lbs Loose Sausage
2 lbs Linked Sausage (brauts or Italian)
2 Packs Pork Chops
1 Whole Chicken
2 lbs Boneless Breast or Thighs
1 Pack Steaks: Ribeye, Sirloin, NY Strip, T-Bone, London Broil, Sirloin Tip Steak, Flat Iron (pick one)
Hungry Jack
4 lbs Ground Beef
2 sirloin steaks
2 Packs of Links Sausage (hot or mild Italian or Bratwurst)
2 Packs Breakfast Maple Links
1 Sirloin Steak
1 Pack NY Strips (2 Steaks)
1 Pack Pork Chops (2 Chops)
2 Packs Beef Stew Meat
2 Packs Boneless Breast
2 Packs Boneless Thighs
1 Whole Chicken
1 Chuck Roast
1 Pork Roast
Bulk Pork
For a half of hog you get 70+/- pound of meat. You can choose your cuts. It is $6.75 a pound actual weight (you pay for only the pounds you receive). That price also includes processing, vacuumed seal packages labeled with cut and weight and delivery (within reason).
A half of hog includes, chops, roasts, ribs, steaks, and a wonderful variety of sausages of your choice.
We also sell whole hogs cut up and fresh BBQ hogs.
Bulk pork requires a $100 deposit:
August 21, 2016
Thaw one Maple Creek Farm ham or shoulder roast. Pat dry and rub with salt and red pepper flakes. Place…
May 10, 2016
2 Lbs. Stew Meat – Chuck, Boiling Beef, Brisket, Or Shanks ½ Lb. Bacon Or Ham 2-3 Cooking Onions, Peeled…
August 13, 2014
8 Cups Water (chicken broth is better) 3 Cups Chopped Green Chile (charred skins - 6 to 8 removed) 2…